Identifying antibodies that can neutralise the coronavirus
As part of the "Corona Accelerated R&D in Europe" (CARE) programme, the Allergy and Immunology Department at CHUV has secured funding of almost 5 million Swiss francs for its work aimed at isolating antibodies that neutralise the coronavirus.
Blood samples given on a voluntary basis by infected patients are being used to sort and clone specific B cells (lymphocytes) in the viral protein Spike. The antibodies produced by these B cells are specially profiled to identify those that have the highest neutralising capacity.
Once isolated, these antibodies can be used to treat patients who have contracted SARS-CoV-2, to prevent the virus from developing. They could also be used to provide prophylactic protection for vulnerable populations, such as elderly people, against infection by the virus.
More broadly, the Allergy and Immunology Department at CHUV is researching antibodies capable of neutralising all types of coronavirus beta under the supervision of Giuseppe Pantaleo and Craig Fenwick, to prepare for the possible emergence of a SARS-CoV-2 virus with resistant mutations.
CHUV is the only partner institution of the CARE programme, which is supported by the Innovative Medicine Initiative (IMI) with total funding of 85 million francs, and is responsible for the development of monoclonal human antibodies as a treatment strategy.
Developing this unique expertise has been made possible thanks to the support of the technological facilities developed by the Swiss Vaccine Research Institute (SVRI).
The team in the Allergy and Immunology Department hopes to be able to isolate several antibodies that are effective at neutralising SARS-CoV-2 by the end of 2020, so that they can be put forward for clinical development to the CARE's partner industries.
Project Ambassadors (CHUV)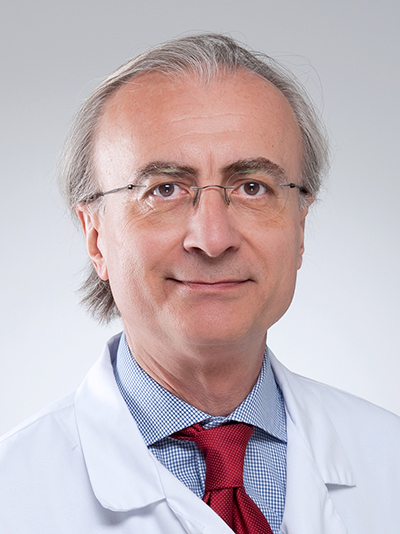 Prof Giuseppe Pantaleo
Head of the Allergy and Immunology Department
The Foundation CHUV aims to get the community involved in supporting its treatment, research and training missions. The philanthropic gestures received at the Foundation aim to optimise patient care and develop scientific knowledge in the field of health for the good of all. Patients, their family and friends, the community and the medical and care staff are at the heart of its activities.