Coordinating the Swiss arm of "Solidarity"
Supported by the Swiss National Science Foundation (NSF) and in collaboration with the Federal Office of Public Health (FOPH), CHUV is coordinating Switzerland's participation in the "Solidarity" study.
Launched in March 2020 under the auspices of the World Health Organization (WHO), this international study aimed to test four experimental treatments against COVID-19 – remdesivir, hydroxychloroquine and two combinations with equally complicated names (lopinavir/ritonavir and lopinavir/ritonavir with interferon beta-1a). It was designed to quickly produce reliable data on the efficacy of these treatments.
"The aim is to be able to carry out the research in different contexts, for example, countries in the midst of a health crisis or that have already passed the peak of the epidemic, or rich nations and developing countries, but also in all kinds of institution, from regional hospitals to university centres".
Every new patient hospitalised in one of the 16 participating hospital centres in Switzerland has been considered to be included in the study since the end of April 2020, provided they have given their consent.
"This trial has an adaptative design, meaning that all treatments tested can be rapidly modified according to the results obtained in ongoing analyses", comments Oriol Manuel. An interim analysis has been recently published in one of the leading medical journals, the New England Journal of Medicine. None of the four drugs initially included in the trial has shown a reduction in mortality in patients hospitalized with Covid-19. These results have been key to stop the administration of ineffective drugs, such as hydroxychloroquine, widely used during the first wave of the pandemic. The WHO will soon release a new design of Solidarity, including novel promising drugs against Covid-19.
Project Ambassadors (CHUV)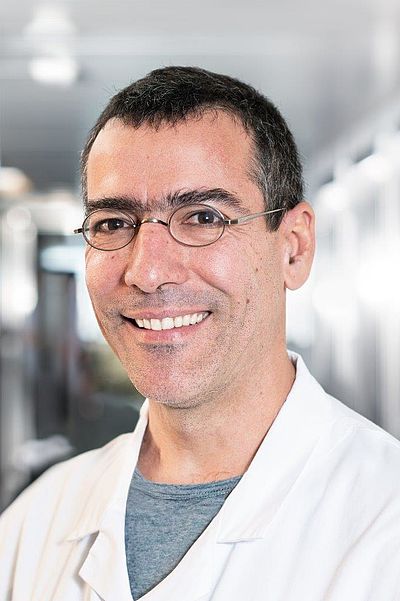 Prof Oriol Manuel
Infectious Diseases Service and Transplantation Centre
The Foundation CHUV aims to get the community involved in supporting its treatment, research and training missions. The philanthropic gestures received at the Foundation aim to optimise patient care and develop scientific knowledge in the field of health for the good of all. Patients, their family and friends, the community and the medical and care staff are at the heart of its activities.